Eat Light Granola to Lose Weight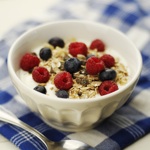 In a huge 20-year study, Harvard University scientists found that participants who increased their consumption of nuts, whole grains, and fruit tended to lose weight. Light granola is an excellent source of these natural weight-loss foods. Try the recipe below.
Light and Crunchy Granola
Preheat oven to 300°F. Combine 1/3 cup plain yogurt, 1/2 cup brown sugar, 1 teaspoon ground cinnamon, and 1/4 teaspoon salt in a large bowl. Mix well. Stir in 3 cups rolled oats (not instant) and 1 cup chopped pecans or other nuts or seeds.
Spread mixture 1/2 inch thick on a cookie sheet. Bake until some of the granola just begins to brown (about 20-30 minutes). Add raisins, dried cranberries, or other dried fruit to taste. Allow to cool and harden before eating.
Most granola recipes call for oil or syrup instead of yogurt. Yogurt gives the granola a lighter taste, better texture, and fewer calories.
For variations of this recipe, add 1/2 cup shredded coconut to the mix, or try substituting cashews, walnuts, slivered almonds, peanuts, sunflower seeds, or pumpkin seeds.
Relevance to Natural Weight Loss:
Weight Loss Tip: Eat light granola with yogurt or low-fat milk for breakfast. It will keep you satisfied longer so you are less tempted to snack before lunch. Make your own granola to save money and avoid the high calories and unhealthful ingredients in some commercial granolas.
Find more simple weight loss tips and recipes in this top-rated ebook at Amazon.
Related posts:
Protein for Breakfast to Lose Weight Naturally